The west wind hit us with a stiff 25-knots from dead ahead as we tacked out the Golden Gate in a series of zig-zags that took nearly half the day.  Then, turning south as we rounded the rocky point where the Cliff House ponders whether to slide into the sea, the wind backed around to the south — Murphy's Law! — and continued to whip us hard in the face.  The seas were sloppy, the ship's motion confused.  We were freezing!
I quoted Captain Joshua Slocum, in 1897 the first man to sail around the world alone in a sailboat.  Off Cape Horn the wind drove freezing sleet into his face so hard that it broke the skin.  "But what of that?" he commented in his log.  Pam gently reminded me that I was not Joshua Slocum yet.
Pillar Point was only twenty miles away, but at this rate we'd get there well after midnight; so we fired up the diesel and pushed her hard into the wind at five and half knots.  Pillar Point is a tricky harbor to enter after dark, but we made it easily enough and gave ourselves a high-five as we dropped anchor in the middle of the calm harbor.
The following day we rested in the harbor and revived ourselves with bowls of steaming clam chowder.  Then we anchored in Santa Cruz just off the pier and in front of the huge Santa Cruz Boardwalk amusement park.  The night air was filled with the screams of young people being hurled about on Giant Dippers, Double Shots, WipeOuts, Cliff Hangers, and Fireballs.
In Monterey Bay we sighted our first humpback whales gorging on anchovies!  The water was as calm as glass as we motored quietly through the windless, foggy morning.  In Morro Bay we passed several sea otters playfully lying on their backs in the calm water.  The weather was warm and beautiful, and after our first chilly days and nights of sailing we were happy to climb out of our foul weather gear and into our shorts.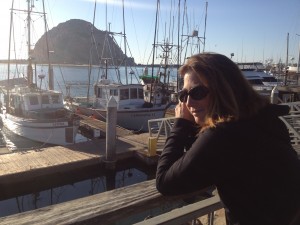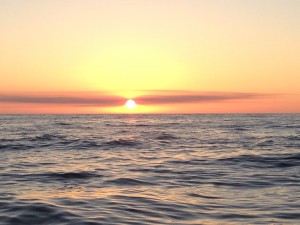 Warm at last in Morro Bay
Sunset on the way to Pt. Conception
Seeing your first sunset at sea is a magical sight, but somewhat ominous as the dusk begins to settle around you, the temperature drops, and you realize you will be sailing all night long through the darkness.  You bundle up tight wearing several layers of wool under your foulies.  You set your instruments to show your course and your radar to show the passing ships and fishing boats.  Then the moon rises and you realize it won't be total darkness after all.  You begin to notice the tiny flashes of phosphorescence in the wake alongside the boat.  You settle into a good audiobook.  And a short while later your fellow crew climbs into the cockpit to announce that your watch has ended and you can now catch a couple of hours of sleep before repeating this cycle a few more times before daylight.  If you are lucky you see the moon set into the sea just before the sun rises over the mountains of Big Sur.
We rounded Point Conception, that frightening cape with unpredictable gusty winds, at midnight in a flat calm, then cruised into Santa Barbara harbor to find civilization once again — delicious coffee, fresh baguettes and cheese, and wi-fi.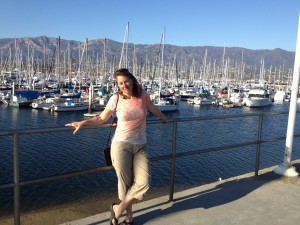 Basking in the Santa Barbara sun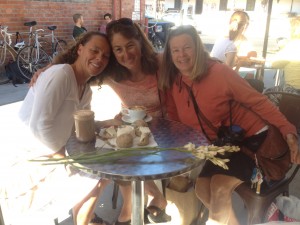 Great coffee and wonderful friends
While in Santa Barbara we visited the local Waldorf School and performed for the 1st, 4th, and 5th grade students.  I played a couple of sailing songs on guitar and they sat completely motionless and enthralled.  Then we provisioned for the 800-mile trip to Mexico by visiting the local health food store and the fabulous farmer's market.
In the Channel Islands we experienced the extremes of highs and lows — beautiful and lonely anchorages followed by a nasty encounter with a piling at the fuel dock in Catalina.  While attempting to reverse in order to bring the boat to a stop alongside the concrete pier, our feathering propeller refused to feather, causing the boat to surge forward rather than stop. (A "feathering" prop has a mechanism that changes the direction of the propeller blades by centrifugal force when you change between forward and reverse … in theory better than in practice.)  We struck a piling head on, crunched off the bow light, and bent the anchor resting in the bow roller.  The hefty clevis pin holding the anchor was bent into the shape of a V, and I had to take a hack saw to it in order to free up the anchor.  Cutting through your standing rigging is never fun, but you have to be able to drop an anchor at any time.  We sailed on through the day and night and I scalded myself when a flying cup of coffee covered the entire galley with a soggy layer of organic grounds.  We limped into San Diego for repairs as a cold front brought in a chilly fog.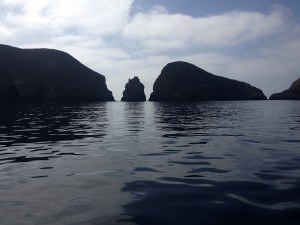 Wild and lonely Anacapa Island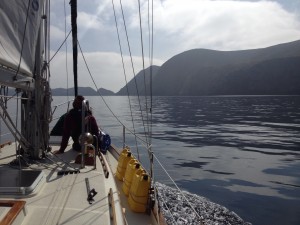 Channel Islands calm anchorage
On our way down the coast we've met several cruisers who will be in the upcoming Baja Ha-Ha Rally.  They're all warm, friendly, and helpful.  They're also a little cagey about their plans.  No one wants to commit to a long voyage across the Pacific, as if Neptune will hear and intervene to thwart all their untimely plans.
"We're heading south and then we'll see what happens next," said one couple.
"We write our plans in the sand at low tide," said another.
Not us; we blab out loud to anyone who'll listen that we're headed all the way to New Zealand.
Two more days before the Baja Ha-Ha Rally begins!  On Monday morning there will be one hundred and sixty-two boats leaving San Diego harbor in a massive clump of sails and spars.  I'm on pins and needles.